Blueberry Muffin, recipe modified from 'Muffin Magic' cookbook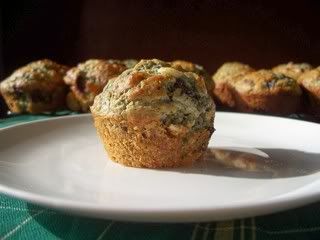 Wet Mix
1/2 cup butter
1/2 cip sugar
2 eggs
1 cup milk
1 425g tin blueberries, drained apart from about 1/2 cup juice.
Dry Mix
2 1/2 cups Self-Raising flour
Preheat oven to 200c
Grease muffin pans, I make 2 trays worth, roughly 24 full size muffins.
Blend the butter and sugar, beat in the eggs and then the milk. Gently fold in the blueberries and remaining juice. Take care not to break the blueberries as they are delish when you find a whole one in your muffin ;) Fold the flour into the wet, remembering they are muffins so they don't need lots of stirring and if there are lumps that look floury THAT IS OK :) pour or spoon mix into the muffin tray, also remembering to only 3/4 fill each one as they will 'expand'. Bake for 20-25 minutes.
I added 1/4 packet of 'smashed' chocolate melts to this batch.